Overview
Sandbox Game
Welcome to CastleTopia – an Open-ended Social Life Simulation Game and Sandbox Game where you can create a unique mansion with boundless design options.
You have the opportunity to create your dream mansion from scratch. Brick by brick!

The game story is focused on letting you create your dream world. The aim of the game is to create an environment that is as realistic as possible and the same as the real world.

You can find new friends (other game players) and invite them to walk around your property in first person.

Unleash your imagination and create a unique world that's an expression of you! Explore and customize every detail from the castle to smaller objects. Design incredible rooms, decorate them with your favorite furnishings, colors and decor. Visit different properties where you can meet friends (other game players) and learn about their game progress and lives.
Our game is designed to relax and eliminate stress!
Play soon on Apple App Store, Google Play, Xbox, PlayStation, Steam and more!
Game Story
Letter from your uncle's attorney office: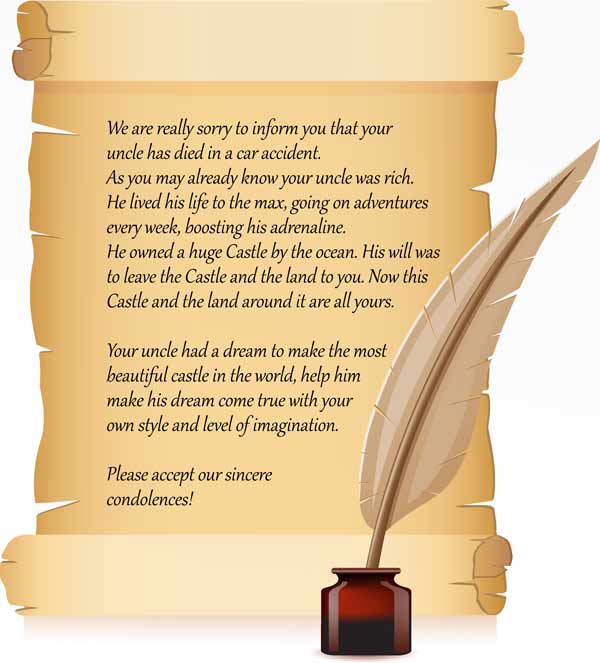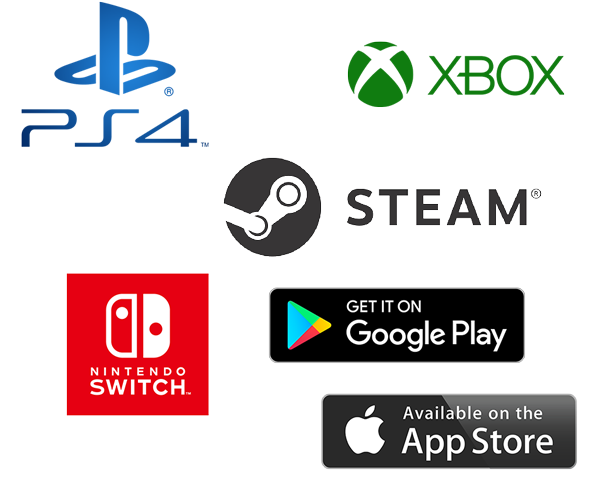 We are planning to release the game on Steam (for PC, Mac, Linux), mobile (Android / iOS) and consoles (Nintendo / Sony / Microsoft).
(Since game development can be a cumbersome process, we can't yet confirm the final list of platforms or guarantee the game will be released on all the platforms simultaneously. If there is a new release, backers will receive their copy of the game as soon as it's available on their chosen platform, they will not wait for the game to be released on all the platforms. Backers can choose another platform if their platform release is taking too long.)
Gameplay
Open-ended Social Life Simulation
The purpose of the game is to make you feel like you are living in a dream world. A parallel world where you have a family, friends and a home which you can take care of.
Create your unique dream world where you are able to change and customize almost everything.

Make your mansion cozy and inviting.

Find new real friends and invite them to visit your property in first person.

Participate in different competitive events.

Based on the game story you as a player choose a character from a list of different characters.
Unique game object arrangement

Uniqueness and stylishness gives you the opportunity to win events

Mini games are used for earning coins and unlocking game objects

Coins are used for purchasing game objects
Features
Uniqueness, stylishness and famousness
Unique game object arrangement everywhere on the game map
Many different Mini games are used for earning coins and unlocking game objects
Coins are used for purchasing game objects
Fame – Uniqueness and stylishness of your Castle gives you the opportunity to win Events and Rewards, and become more Famous
Events – You are comparing your Castle with the other game players
Vote – You can see the other players' castles and vote for them
Family Castle – You can make friendships or even a family with the other players and together create more stylish, rich

and better castle

Group Inventory – You can exchange different objects between you and your friends or family
Marketplace – You can sell or buy objects and other game materials
Team
Dreaminess, teamwork and enthusiasm
The heart of our team are three serial entrepreneur brothers who always wanted to own a castle by the ocean.
Unfortunately this dream didn't come true. So we decided to create a video game where each player including us can have their own dream castle by the ocean shore.
Our leaders:
Our teams:
We have and work with different teams of specialists with many years of experience, which exceeds the total of over 80 professionals.
Our company:
Topia Bros
 is a gaming studio that aims to create some of the most popular games that have ever been built.
We believe in the achievement of that goal as 
Online Creations Ltd (

Follol

)
 and 
The TSD Group
 have united their efforts, and have skillful specialists who will help for the creation of video games at a competitive global level.
Languages
Knowing that localization is very important – CastleTopia will launch into early access with English and Bulgarian support.
Shortly after, we will update the game to support the additional languages seen below.
Language list:
English

Bulgarian

Simplified Chinese

Japanese

Spanish

Russian

Portuguese

French

Arabic
FAQ
Players will earn game coins and crowns by playing puzzle and logic games.
Players will buy different objects with crowns, like:
Materials which can be used to change the look of your castle, garden, rooms, furniture, cars, etc.

Furniture to decorate your Garden, Cellar and Rooms.

Cars, Yachts, Helicopter, Personal Watercraft (Jet Ski), Water landing airplane, etc. – so you have a rare collection of vehicles.
Outside Castle

Inside Castle

Kitchen

Dining Room

Living Room

Rest Room

Bedrooms

Bathrooms

Gallery with family tree paintings

Cinema

Hall of fame (with different types of sport objects)

Spa

Disco Club

Dungeon

Cellar

Cemetery

Secret Exit to the mountain

Villa in the mountain

Island with beach bars and small villas near and in the ocean

Car Track

Water Sports
Contact Us
Contact us if you have any questions, recommendations or ideas.
Get notified of our launch
Receive launch updates directly to your inbox.